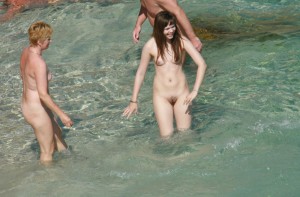 When I was 7 several of us were playing. One of the girls said she would get naked. How cool. She asked the boys to join her and no one did, so I said I would. It was just so great to be there naked and natual like that. It was the first time I was ever nude with anyone and I loved it.
I never had a chance to be nude till I was older. In high school we went on a trip with my family to St.Martin's Orient Beach. It was so cool so many naked people. My family was amused and I stayed naked with them. Then I went down the beach, took off my suit, and walked down the beach naked. So many people naked and so many clothed. I loved it. I stood in line at a restroom naked and it was so neat. I had to put lotion on parts that never were tanned before and it was so cool to just stand and do it. There were two girls watching me and it seemed so natural. They were my age.
I spent the afternoon avoiding my family and being nude all day. I was hooked. One thing I did notice though is that I was a little smaller … all right …. a lot smaller than every guy there. You know what I mean. My little penis was about an inch and a half soft and looked like a little mushroom cap.
Sometimes some girls would giggle when I walked by, but I didn't care, I still loved being naked. I am very thin and muscular and girls say good looking, but I am very small, so it was embarrassing at first.
Now, I go to nude beaches whenever I can, I love Haulover in Florida. I evern trim my pubic hair really close and I don't mind if some girls giggle at my small little penis. I love it even though …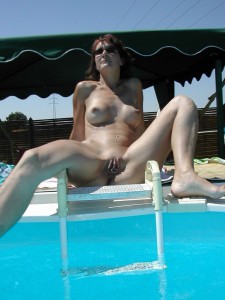 I go naked at my house whenever I can and when I go to college I am never going to wear clothes at home. I love to be naked as much as possible. Sure, I wish I was bigger, but it just isn't important. It does reach almost 5 inches when I am excited, still small but oh well. No matter how you look, you should get nude as often as you can. It is the greatest. I hope this will help other guys who are small or girls with small breasts realize that being nude can be great no matter what you look like.
And, if you see a small guy, laugh if you want, but get to know him, he may be a great guy!!
There are a lot of closet nudists out there, and I'm one of them. So, I decideed to write this to help others like me to find more ways to go nude. Here are some helpful tips:
At home: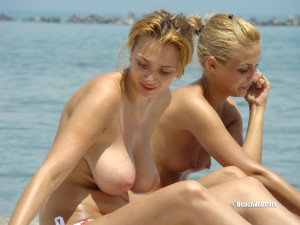 When no one is home, (Or if you're willing to take your chances with someone around) just bare it all and do your usual stuff. The wind blowing against your body feels absolutely wonderful. For those who with their own rooms, you can lock the door and sleep in the nude. Try wearing just shorts (Men) or a single piece t-shirt (Women). That way, you can slip in faster if someone comes about. And for those people who share rooms, you can slip off your clothes and sleep in the nude, covered with a blanket of course. If you're scared you'll kick it off, tuck the sides of the blanket in tightly to the sides of the bed. You can also go back and forth the bathroom nude, and no one will probably say a thing. This is probably the first step for anyone who plans to tell their parents about their naturist activities. My parents are a bit open-minded, but they have their limits for nudism. I'm normally allowed to go nude before or after bathing for a while. Going longer than that will warrant a frown from them. I'm currently working on trying to make my parents come to terms with my nudism.
Outdoors:
If you're lucky enough to have a nudist beach or center nearby, then don't hesitate to visit it. Howeve if you're unlucky enough (like me), you can always improvise. If you have your own swimming pool, you can always go there. If you have a private one, then use it! However, if you live in an apartment (like me, again), you could try going at around 2-3 am. Alternately, go during office hours and school times, when there will be no one. A good way to be safe is to wrap your swimsuit around your hands, so if anyone comes, you can easily slip it on. And, if you have a park nearby, (Go on the same times as the swimming pool) A good idea if you're going to the park or a hike, bring the necessary supplies and a plastic bag or a bag to keep your clothes in. I normally bring slippers so I can remove and wear it easily. I prefer to go barefoot anywhere, by the way. If you have a bicycle, you could try cycling around nude. Always think of new ways to go natural. Make sure you map out a proper time to go and to return. Watch out for people to. You can also try jogging around the neighbourhood. Try alleywyas and isolated areas. Becareful if you want to take an extra risk by jogging past other people's houses.
ALWAYS WATCH OUT FOR YOUR SAFETY, ESPECIALLY AT NIGHT
That's about it. The main point I stress is to USE YOUR BRAIN! Find more places to go nude and always think ahead for everything. Okay then, that's about all I got to say. Until next time, keep nude!
While in college, I went with some friends from my dorm to a beach just south of Santa Cruz. It was not a nude beach and my friends and I did not go nude, but there were several other people who were nude. It was apparent that the skinny dippers were having a good time and didn't care who else saw them. This was a completely new concept for me. There was no "You show me yours and I'll show you mine" quid pro quo, which is the way I understood nudist parks to function. The attitude was "I'm going nude because I enjoy it and everyone else can just deal with it."
I did not go nude that day because I did not know what the attitude of my friends would be toward it. It wasn't until a couple of years later when I had access to a car that I went to Bonny Doon Beach just north of Santa Cruz. I had gone alone that day but there were plenty of other people on the beach and most of them were nude. I didn't have any major anxieties about taking my clothes off, but I was reassured to find that nobody was laughing and pointing and that I didn't have any problems suppressing my level of arousal. I found that within a couple of minutes I was able to relax and just enjoy being on the beach. There were a whole new series of pleasant sensations such feeling the sun and the breeze all over my body and running along the beach and jumping in the water without a soggy bathing suit. The experience lived up to my expectations. Thereafter, I would visit nude beaches a few times each summer whenever the opportunity availed itself.
I eventually married a very proper lady who I met at church. I assumed at the time that we got engaged that I would be giving up nude beaches forever.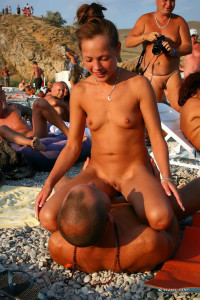 Then, she told me about how she and her sister grew up skinny dipping in their backyard swimming pool. A few months after we were married, I took my wife to Red, White, & Blue Beach in California. It was her first time nude on a beach and she thoroughly enjoyed it. Now when we go on vacation, we seek out nude beaches and prefer to stay at nudist resorts. We now have a backyard swimming pool and use swimsuits only when we have visitors.
Dale Slips into a Nudist Camp
My narrative is nicely over 3000 words, however you can read it at
http://oldelephantwings.blogspot.com/2010/01/dale-sneaks-into-nudist-camp.html
-Dale Lund
Branson, Missouri
Being naked outside for the first time proved to be a real encounter.
pet out. I simply wore a top that went down to below the crotch. I genuinely enjoyed the cool wind that reached parts of me that
had never felt a cool wind. All I can declare is
"WOW." It felt so great that I needed more.
So I reversed the buttons all down the front. That let in more coolness, and I simply felt the "WOW even more powerful. My head simply said do it. So I
took off the top and there I was totally
Naked to the cool wind.
more extreme. My head simply said yes, yes, yes.
I should stop messing around and simply declare
I'm now a nudist. I've consistently loved being
Naked whenever possible. Now I'm a nudist with
WOW, what a wonderful feeling!
-Wes
Oregon
First Awakening
At the office, my supervisor and coworker resided near the finest beach on Long Island and requested me to join his family for a beach day, so I concurred. It turned out to be a private beach, the town's only resident shore. In minutes I saw people standing by a 10 foot totem pole, they all were nude and had long ponytails, along with a sign said "clothing optional."
Not going, he said take it away and take pleasure in the waves. I did, as well as the blustery waves on my body proved to be a completely new life knowledge.
I've never become the same inhibited soul after that. Nature was a blast, there all the time, as well as the present was mine.
-Louis P.
A number of years back, I began to be drawn to social nudity. I adored being naked since I was around 10. I needed to slip out of my pj's when I slept, then slip back into them. Just a textile family.
Well, across the time that I turned 48 I determined I needed to understand more, and began browsing websites. AANR, etc. From this I discovered Hidden River Resort in north Florida.
I'd get information from the AANR website, and assorted Christian Nudist newsgroups, and then forwards that information to my wife.
We arrived and with plenty of trepidation, got a tour of the facilities.
Within only several minutes, I was undressed and feeling free. My wife yet went considerably slower.
We chose to walk the trails first. As we walked she inquired how I felt. "Is not it strange?" We afterward saw another naked couple, and nothing occurred! We said hello – and spoke a couple of minutes – and it was not unusual. It was truly quite natural.
We went back to the vehicle, and she freely undressed, and we walked to the outside showers. "Nude as jay birds."
It was amazing – we spent a number of hours in the pool, hanging out as well as discussing. What an excellent day trip – excellent people, as well as the hostess was top notch!
If you arer worried about becoming aroused, or others seeing you – do not be. When you get your clothing away – we all seem the same!
Thanks AANR for the information you supplied. Thank you CNC as well as the other Christian newsgroups for helping us see that we can still have our beliefs – and enjoy social nudity.
Now – we are constantly looking forward to our next visits, and we are slowly introducing our relatives and buddies to the lifestyle.
-FloridaBill
Florida
We stopped to consider the ocean and understood we were above a nude beach. First, we saw a youthful and healthy couple. Subsequently we saw people who looked like me, old and not too appropriate.
I determined that I needed to skinny dip for the very first time in my adult life. My wife did not join me then.
Ever since then, we have joined AANR, seen clubs in the U.S. and Europe and I often skinny dip throughout the summer. I have discovered that if I swim early enough in the early hours, I 've the lake to myself.
-Tom
Illinois
Before I begin writing anything else and before I discuss with you my story of my first nude beach encounter, I believe that I must say several things about the girlfriends I went with. These are my three best girlfriends that I've understood for a long time, ever since we began first grade. We stayed great girlfriends all these years and every year (when we can manage it), we go for a holiday down to Mexico and check out a fresh location each year. It's been our little tradition for a few years now and we've had some crazy times south of the boundary. Nevertheless, this last year was actually something else. It was the very first time we went to a nudist beach and I only need to discuss our experience.
We initially believed that it'd only be another one of our excursions, all four of us were actually psyched to go and we actually wanted the holiday. Also, we chose to go someplace where we could actually kick back and relax without needing to bash all night long. We determined on a location called Riviera Maya that's just south of Cancun, but in addition merely south enough to avoid all of the crowds that harass Cancun. When we got there, it absolutely was like heaven. Well, it was one of these areas. I really could recommend it to practically everyone.
And for a day or two, everything was going as intended. We were relaxing on the shores entire day long, went out for several drinks in the evenings and we were, if we're fair, being a dull group. Actually, it was becoming a bit too dull. I mean we were still in our 20ies and however exhausted you get over the course of the year, you do need some pleasure when you go on a holiday. That's when one of my girlfriends, Tyra, said that there's a shore where nudists go, something of a combined shore at which it is possible to go either clothed or in the nude. This was something we never attempted before and we determined that it will be a great way to spice things up a bit. We also expected that there would be some men there that we could take a look at in the nude.
The very first thing that we noticed when we got to the shore is that everyone was in their swimming suits, guys, girls, everyone. As it turned out, this wasn't true. The nudist section of the shore was a bit down the shore and we soon began seeing a growing number of folks enjoying their day in the seashore in the nude. There were ladies in topless, women which were completely bare and even a few extremely hot men all naked and showing off.
Then it hit us we were extremely self-conscious. I made the decision to give topless a go as well as the image which I sent you is only that. Tyra in the middle, all naked and without a care in the world.
The independence is intoxicating as well as the sun feels so fantastic on the nude skin.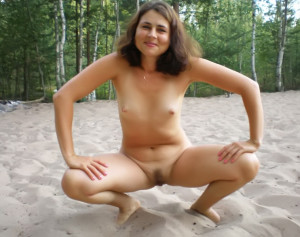 I was born in a state where nudism/naturism is still taboo.
I 'd my first experience once I was 13. One day, I forgot to wear the swimming trunk and I understood that when I am going to lose my trousers. I actually don't desire to go back home for my undies. So I decided to wrap a towel and keep to swim. The towel used to slip off often and for the first time in my life that my skin got in direct contact with water under sunlight. I felt the coldness of water as well as the warmthness of the sun with entirely nude body. Its a sensory feeling and I fell in love with naturism for the first time.
To be honest, I got into few sexual actions (like nude erotic massages etc) during my teen. But I never felt the real well-being in these types of activities and every time that I believed guiltiness in my heart that Iam doing something incorrect. Nudism for me at that age is just glaring at nude women.
When I reached my twenties, I started believing in a matured way and I started loving naturism. I 'd the influence of few philosophers on my head, that makes me to select naturism. Infact , nothing around me is fascinating for me now than my own naked body subjected to sunlight.
But as I mentioned earlier, naturism isn't welcomed in Asia. So, I used to confine my activities within four walls. But whenever I get a change, I never consider second time to wear my birthday suit
First time naked in public? Thatis an excellent question. So young that I can not recall. My maternal grandparents were practical and frugal, and that place the mind-set towards clothes. Do not get your clothes dirty.
As a kid, I had a vitamin D insufficiency, and there were two options, cod liver oil (yuk) and more sun. Since sun was free and my parents did not have to induce me to take it, playing naked was the alternative.
As a kid I did not have a bathing suit or a tuxedo. "Why purchase something which you'll barely ever use?" Visiting the shore proved to be a special occasion, perhaps two times annually, and when we did, it absolutely was to one end of the shore. Father went in the water in his panties. Granny brought another house dress to wear in the water.
Would you think that my family was really spiritual at this time? They were, but "small apparel" meant do not flaunt your wealth, not conceal what God created, your body. When I was a teen/young adult there were lots of areas in the Lower Mainland that we'd go to and celebration and skinny dip, but the majority of them have become regional parks now. My first wife did not have a problem with nudity, she'd strip anytime and anyplace. I was overly conservative.
The answer was "I Will go, but I am wearing a bathing suit." While pursuing one of my sons, she fell from her top, and away it arrived. About 10 minutes after, "What the hell." and away came the remainder. We located and joined the previous Sunny Trails Club in Surrey, and have been part of ordered nudism ever since.
We're likely not accurate Nudists/ Naturists because we truly believe that nakedness is natural and not sexual. They actually do not, or there will not be so many rules to show that it isn't. Do not do this or that, or do not wear this or that, because it might seem to be sexual.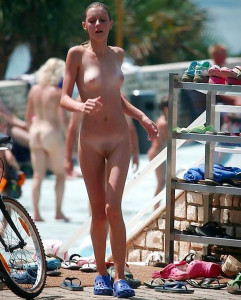 The shores in the sun. to walk in the most natural and nudist manner possible, like it was supposed to be be. With no spirit to attention. their were hundreds others approximately
However they also were swimming carefree in this amazing spot, observing schools of fish swim by, and speaking to every other like they were best friends. Others were outside walking on the fine white sands of the seashore. We were discussing and unashamed, floating and swimming readily in the wonderful azure waters of the bay, the sun warming us with its extreme life giving rays from above. Gone were the issues I've had in days gone by using a swimsuit filling up with air and sand and binding in the worst potential of manners. It was amazing not to need to sit down in a soggy swimsuit for a change. Walking down the shore couldn't have been simpler because even though we all seemed a little different, we were all actually the same, with no racial, social or sexual obstacles to beat.
My wife on the other hand was a bit uneasy to say the least. Inside my heart I know she'd have loved it if she'd have attempted it, but there were too many problems for her to beat before she could vindicate dropping her body armor. You could say it's the taboos someone has drilled into her head for a long time, the body is poor, and seeing it's a sin,or something. ( I do not actually know anyplace that this is backed up by facts!)
You could say she's a little set in her manners or a little hard headed. You could say she just believed naked was indecent and lewd, and consistently sexual in content. I think I'm fortunate to join the 10% or so who may be slightly more receptive to these not so new thoughts.
The Natural One
I was always a closet nudist, having seen several resorts, by myself as my wife wasn't in any way interested in it.
Three years back I divorced and later moved to a new neighbourhood. Dwelling alone now, I always walked around my home in the nude. I 'd only return from a holiday to Cyprus Cove Resort, which I appreciated very much. She came by generally one or two times weekly for java in the morning.
She asked about my holiday and I told her the weather was fantastic as well as the resort was fine without telling her it was a nudist resort. I 'd always been really close about my lifestyle option. Afterward she paused for a moment and said "you know I see you walk around your home naked on a regular basis." Oh! I mentioned.
I thought for some time and after that only merely admitted that I was a nudist and I love being nude in my house. Additionally , I told her my holiday was in fact to a nudist resort. I described that most nudist take pleasure in the life however do not go out of their way to inflict their lifestyle on others. She said she wouldn't mind(since she's aleady seen me nude) and that I should be comfortable in my own house. I told her I 'd think about it.
Two days after she phoned and said she was coming for java. I made the conscious choice not to dress when she came to the doorway. We sat and talked for hours constantly with me in the nude. She of course was interested in regards to the very fact that I'm a smoothie. I described I 'd the hair laser removed. Additionally , I told her about this web site. That was two months past. I excused myself to visit the toilet. She said after listening to me and reading all of the things in these types of newsgroups she needed to attempt it.
We meet frequently for java(she comes over in her robe and loses it once in my door). I've asked what her husband would say but she's given the feeling he believes like my ex wife and that nudity is bad somehow. Anyhow I 've officiallycome out of the closet! Susan has suggested that another neighbour, Natalie want to join us for java. I will keep you posted on such an development.